DESCRIPTION
SCT-60 is a medium and large sized closed circuit cooling tower in the SCT Series (What is closed circuit cooling tower?). It is entirely designed using #304 stainless steel, and is suitable for factories with 10 to 15 200-ton plastic injection molding machines or induction furnaces up to 450KW. This cooling tower ensures no scale deposit problem for machines in the future. It also allows regular self-maintenance and cleaning (How to maintain a SCT closed circuit cooling tower), and does not require any consumable. In addition, modular fittings enable quicker handling of maintenance issues, thus making it a convenient, physically attractive and eco-friendly closed circuit cooling tower.
---
SPECIFICATION
| | |
| --- | --- |
| Cooling Capacity | 180,000 Kcal/h |
| Water Flow | 500 LPM |
| Water Pipe Diameter | 3" |
| Pump | 2 HP  |
| Fan Motor | 3Ø8P 0.75 x 2 kw x pcs |
| Fan Blade | 28" x 2 inch x pcs |
| Air Flow | 23000 m³/hr |
| Weight | 850 kg |
| Operating Weight | 2000 kg |
| Dimensions | 2100(L) x 1450(W) x 3320(H) mm |
| Machine Frame  | SUS#304 |
| Heat Exchanger Coil | 0.7 mm Copper Tube |
| Fan Stack | ABS one-piece fabricated |
 (38°C to 33°C Wet bulb 27°C)
---
DETAILS
The SUS#304 machine frame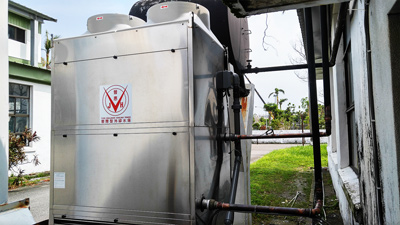 The outer casing of the enter cooling tower is made of #304 stainless steel, which increases the robustness of the cooling tower, thereby prolonging its service life. In addition, a touch of stainless steel technology has beautified the cooling tower.
Easy take-out and reusable fill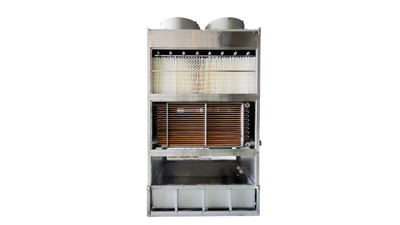 Easy and convenient removable external casing facilitates maintenance and repair of the cooling tower. High-strength plastic, ABS is used as a heat dissipation material, which can be removed for cleaning and used repeatedly without requiring any consumable.
ABS one-piece fabricated fan stack, low noise fan motor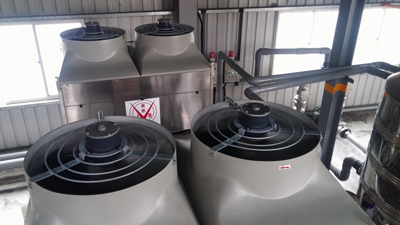 SCT-60 uses a low-noise fan motor, along with a one-piece ABS fabricated fan casing design, to effectively reduce noise resonance problems.
Water distribution tube and L type eliminator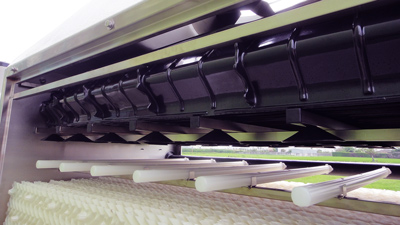 The water distribution system exclusively developed for the SCT Series comprises an even water distribution design without consumables due to damaged nozzles, and can be removed to carry out maintenance works. The system is also equipped with L-shaped water deflectors which prevent water splashes, thereby saving water from waste.
Anti-stain device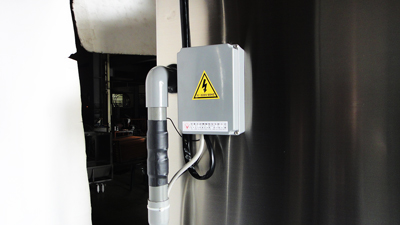 The SCT Series is equipped with electronic type anti-stain device with ion detachment function, thereby reducing scale deposits on the surface of copper tubes.
Heat exchanger coil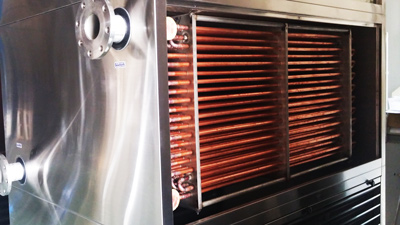 The coil heat exchanger is made of red copper tubes with high thermal conductivity and ductility, which produce excellent heat exchange effects. (It can also be replaced with #304 stainless steel coil).
Water pump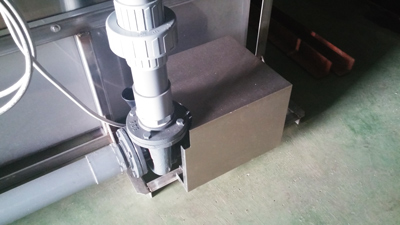 The external circulation pump comprises a quick-release pump which enables convenient and quick repair and maintenance. Its exterior is covered with #304 stainless steel, which reduces erosion due to long-term exposure to sun and rain outdoors, thereby significantly prolonging the service life of the pump.
Water basin and foundation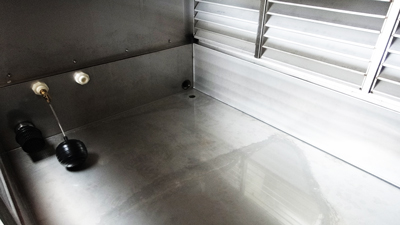 The water basin of SCT-60 features #304 stainless steel titled design, which facilitates quick cleaning and drainage. Coupled with a #304 stainless steel base, the water basin can effectively resist vibration during the operation of the cooling tower, thereby maintaining stable operation.
---
 CONTACT NOW!
---
---